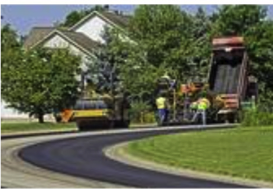 The development is currently being repaved (except for Jester Court which is in good condition). The repaving started on Monday, June 15th and will be worked on daily, weather permitting. The work is being done by Parrotta Paving.
If any homeowner would like to get their driveway done by Parrotta while they are paving the neighborhood, give them a call at (304) 292-0905 to schedule an estimate.
This project is to include curbing, 11 speed humps and a tack coat! The tack coat will help the old asphalt adhere to the new asphalt.
http://www.forconstructionpros.com/article/11408541/tack-coat-for-paving
This is a sticky black tar coat which you do not want to walk or drive upon! This can track on concrete surfaces before application of the new asphalt! The tack coat will be applied in sections during the paving project. This may inconvenience home owners during the installation and require some shuffling of vehicles and creative off-street parking. Parrotta Paving and IVPOA will not be held responsible for any black marks tracked on concrete from driving through this tack coat.
Parrotta will be milling 4 feet in on both sides, applying the tack coat, and then 2″ of new black top. They will also be replacing the curbing, making sure water is directed properly, and addressing some known drainage issues.
The tack coat and black top application starts soon! There is no on-street parking during paving. Please park in your driveway (or grass if everyone cannot fit).
All homeowners need to be diligent and patient during this resurfacing project. If you have any questions, please feel free to contact a board member.
Any new information about the paving project will be added to this post.